Airport workers across America speak up for better working conditions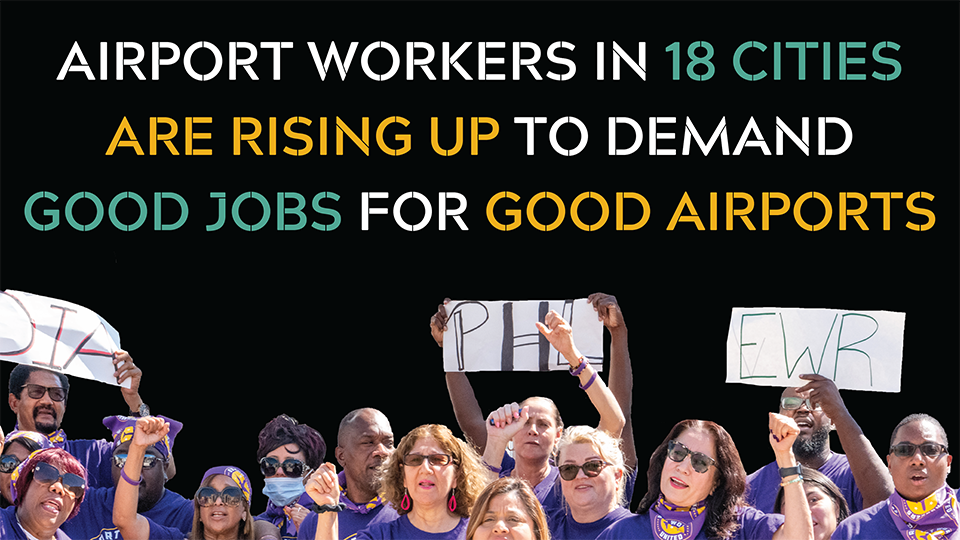 From the beginning of the pandemic, airport workers have paid a huge price as rates of air travel fell and their jobs became more difficult, stressful, and precarious. As Jo'Ell Thomspon, a long-time airport custodian at Oakland's airport, has said: "We are cleaning contaminated areas, where people who are known to be infected have been, but we're understaffed and unable to keep the airport properly cleaned. Management is claiming that what they call 'operational needs' mean the work that used to be done by two or three of us now has be done by one of us." You can read more at SF Gate.
Airport workers spoke up across America last week to demand better. Workers in Boston, Newark, and Chicago went on a one-day strike and were joined by workers taking action in more than a dozen other airports, including Dallas and Seattle. Our union siblings in SEIU-United Service Workers West took action at San Francisco airport last Thursday, Deecmber 8. The workers demand a safe, stable workplace, a voice on the job, and adequate pay so they can create a bright, healthy future for themselves and their families.
Joe Grandov has been a baggage screener at SFO for nearly 10 years, and is on his union's executive board. He told the SF Examiner, "What we're trying to do mostly is impress upon the airports and the airlines and the general public that we've been neglected, we've been abused. There's a huge retention problem because they're not paying us what we need to be able to survive."
You can support airport workers as the holiday season continues and air traffic increases by telling Congress to pass the Good Jobs for Good Airports Act here.