After years of fighting, radiology workers secure huge reclassification victory to raise wages and secure retro pay for members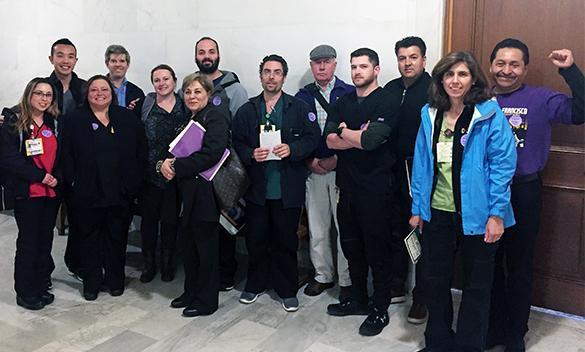 For years, San Francisco lagged behind regional hospitals like UC, Kaiser, Stanford, and others in compensating radiology staff. Those hospitals had distinct career paths to compliment different areas of specialty (called modalities) such as CT, MRI, mammography, and more, but DPH had no path rewarding workers for expanding their skills or growing in their careers. Six and a half years ago, SEIU 1021 members at SF General Hospital decided enough was enough.
"I was tired of watching talented staff and students come through our hospital to get some experience and then quickly leave for higher pay elsewhere. Those who stayed were deeply committed to public service and caring for vulnerable patients but had to make significant sacrifices," said Mandana Siyadat, a Radiologic Technologist Lead and former Bargaining Team member.
Radiology workers began organizing. They attended hearings at City Hall, held rallies, met with the Mayor, and fought at the bargaining table. It was slow going at first.
"Management dragged their feet for years. They would ask for all of these compensation comparisons, and then they wouldn't even engage with us at the table. They just sat there staring at us. It was very frustrating," remembers Ellen Ridge-Cooper, a Dignostic Medical Sonographer and Steward from Ultrasound.
In 2019, after years of work, radiology workers won a new compensation system which brought them closer in line with nearby hospitals. The new pay rates should have gone into effect on July 1, 2019 but management continued stalling rather than implement them. We filed a grievance, demanded back pay, and kept the pressure on.
Finally, in January 2021, we forced management to capitulate; the city began honoring the new wage scale, and we won retro pay going back to July 2019. For many workers, this meant settlements of hundreds or even thousands of dollars in addition to higher wages resulting from the reclassification.
"I had to wait for them to settle all of this so I could retire. When I finally saw this money in my account, I literally cried with joy. The lesson is that management isn't going to just give us things out of the goodness of their heart. We have to be prepared to fight—but if we fight, we can win," said Ellen.
Mandana felt the same way, saying, "I don't give up—when I start a fight, I see it through. A lot of my coworkers were really happy and appreciative when they got their money. It feels great to know that after all of the fighting, we won something. I am grateful for all of the help and support from my colleagues and our union. Management can call frontline workers heroes, but it doesn't mean anything if they then us treat like zeroes."
The new system is a major improvement worth celebrating, but there's more work to be done to raise standards for all radiology workers. We won't stop fighting until we create a sustainable, long-term career path that benefits workers and the patients we serve.