After a successful strike, new management comes to Alameda Health System
CEO out, SEIU 1021 member in as a Trustee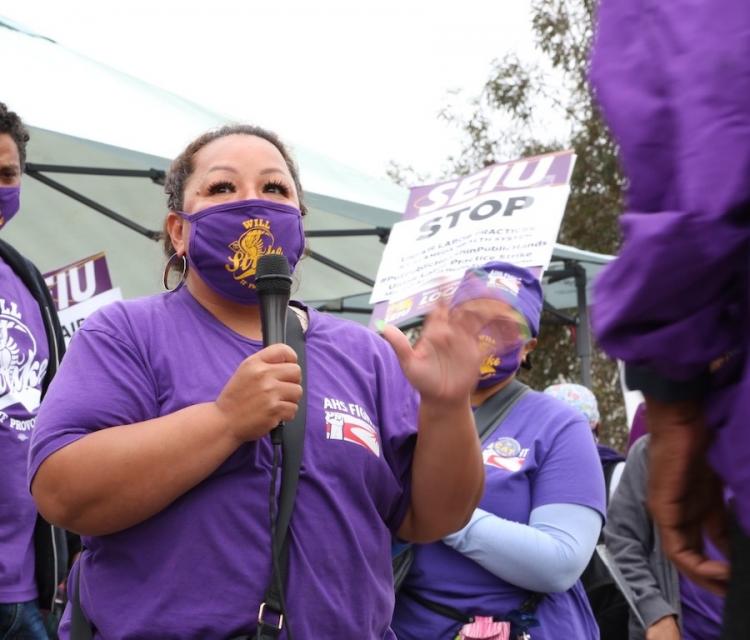 Workers at Alameda Health System, the county's safety-net healthcare system, have been fighting for better care, better management, and a fair contract. After their successful five-day unfair labor practice strike in early October, the Alameda County Board of Supervisors stepped in and demanded that the AHS Board of Trustees resign. Last week, AHS CEO Delvecchio Finley gave the Board of Supervisors a letter of resignation, and today, SEIU 1021 Vice President of Organizing Jennifer Esteen, a psychiatric nurse at San Francisco General Hospital, will be sworn in as one of the new trustees.
Longtime AHS worker Veronica Palacios, an Eligibility Specialist II at Oakland's Highland Hospital and VP of the AHS chapter, said, "We are proud that our outcry has been heard. As CEO, Delvecchio Finley was not responsible enough to run the system the way it needs to be run for our workers and our patients, and the Board of Supervisors finally saw that he was letting the system fail.
Our courage to speak out against his mismanagement and inability to meet our community's needs has gotten results, and we hope that his resignation and the new Trustees will help AHS run the right way, top to bottom, listening to our community and our members. We're putting all the bad bosses on notice: We are not afraid, and we will always speak out for what's right."
Incoming Trustee and SEIU 1021 member Jennifer Esteen said, "I'm excited and honored to have been appointed to serve on the Board of Trustees of Alameda Health System. As a Trustee, I hope to make sure that equity is always on the table and that patient care and patient outcomes are first and foremost in our decisions. Becoming a Trustee is a testament to where SEIU 1021 members are right now at AHS. Our members worked really hard to organize and build power. They made it very clear that the Board of Trustees that is supposed to make sure the health system runs well, was not doing their job.
Our Alameda County Board of Supervisors heard it loud and clear when we went on strike: as a result, they tuned in, took action, and forced the resignation of the Board of Trustees. Now the CEO has also resigned. I would say, we are in a strong position of power right now, and 100 percent of the credit should go to the members at AHS for all the work they have done to get us to this place. As the health system expands, I want to make sure we do so with in-house jobs, not contracting out, so our membership grows and gets even stronger."