After Historic Five-Day Unfair Labor Practice Strike by 3,000 Frontline Healthcare Workers, Alameda County's Board of Supervisors Fires the Trustees Who Run the System
The Strike Was So Successful, the Bosses Got Fired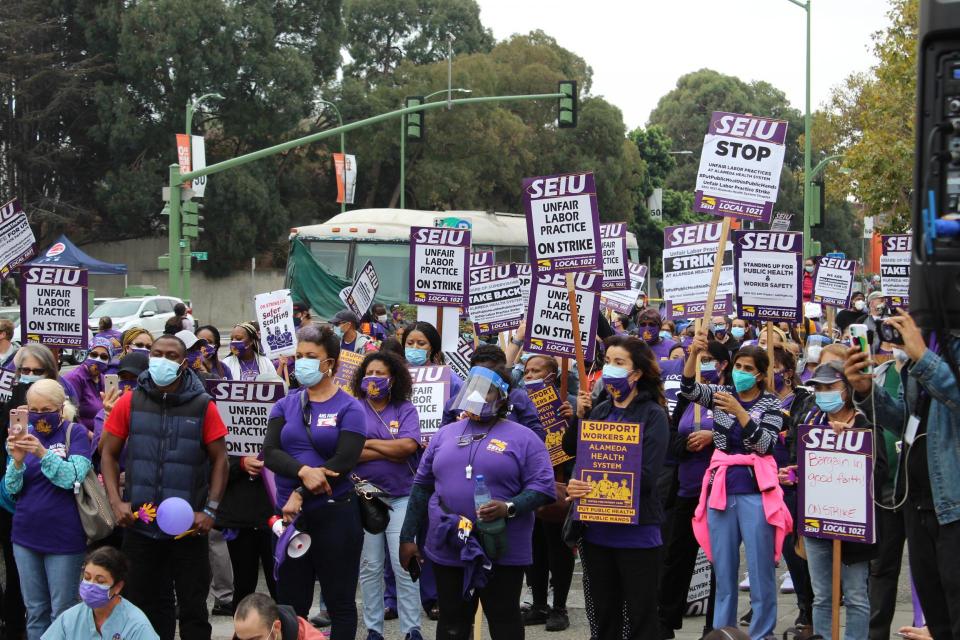 After a five-hour hearing on Tuesday, October 20, featuring statements from AHS management and many AHS workers, the Alameda County Board of Supervisors voted to demand the resignation of the current Alameda Health System Board of Trustees.
This is a huge step forward for the members' fight for a fair contract and a public healthcare system that works for the community and its employees.
AHS management fought this change every step of the way. ER nurse and chapter president John Pearson said "This was as organized as we've ever seen management, but when they spoke to the Supervisors, they revealed transparently how disconnected and out of touch they were."
The Trustees must now submit their resignations or reapply for their positions by November 6, and their resignations will take effect November 30.
John Pearson, an Emergency Room nurse at Oakland's Highland Hospital and President of the AHS Chapter of SEIU Local 1021, said, "Alameda county needs a public healthcare system that puts its patients and workers first, and we are encouraged by the Supervisors' recognition that it is time to bring public accountability and adequate management into AHS. It's clear that the Board of Supervisors listened when healthcare workers and community members stood up to demand a better system, and we look forward to a new Board of Trustees in November and a new direction for AHS."
SEIU 1021 Alameda Health System Chapter Vice President Veronica Palacios, an Eligibility Specialist II at Highland Hospital, said, "We have been fighting for a long time to bring a structural change to the way AHS is funded and governed. The current Board of Trustees mismanaged the system, and it hurt our patients, and it hurt our workers. This is an exciting and proud moment for AHS workers. It's a huge milestone. We are feeling hopeful that the Board of Supervisors are returning AHS workers and patients to safe hands."