2018 Endorsements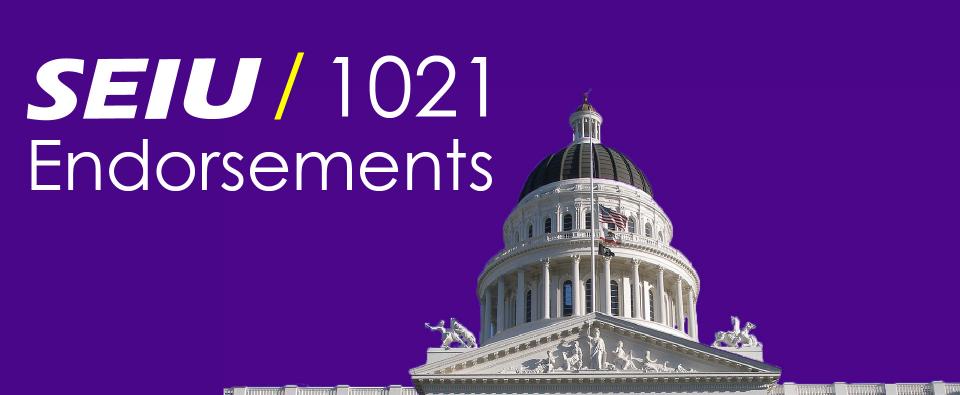 SEIU1021 endorses candidates in statewide elections, as well as in elections in regions where our members work and live. Our endorsements include Democrats and Republicans — the main criteria is that the candidate supports policies that support working people.
U.S. Senate
Senator: Kevin de León
U.S. House of Representatives
District 3: John Garamendi
District 4: Jessica Morse
District 7: Ami Bera
District 9: Jerry McNerney
District 10: Josh Harder
District 12: Nancy Pelosi
District 13: Barbara Lee
District 14: Jackie Speier
District 15: Eric Swalwell
District 17: Ro Khanna
Constitutional Offices
California Governor: Gavin Newsom
California Lt. Governor: Ed Hernandez
California Attorney General: Xavier Becerra
California Secretary of State: Alex Padilla
California Treasurer: Fiona Ma
California Controller: Betty Yee
California Insurance Commissioner: Ricardo Lara
California Superintendent of Public Instruction: Tony Thurmond
State Ballot Measures
Proposition 2: YES
Gives the state permission to borrow $2 billion to fund supportive housing for those suffering with mental illness and to repay the cost of that bond with money set aside for mental health services.
Proposition 5: NO
Funded by real estate developers, Prop 5 would expand special rules applied to existing homeowners 55 and older who buy a new home and allow them to carry their Prop 13-assessed property values with them across county lines. Prop 5 would result in a $1 billion hit to local and state general funds, negatively impacting public services provided by cities, counties and special districts. The passage of Prop 5 would also result in funding loss of around $150 million per year in the near term for schools, growing over time to $1 billion or more per year.
Proposition 6: NO
Local roads, state highways, and public transportation are in need of repairs and improvements. Passage of Prop 6 would repeal recently enacted road repair and transportation funding by repealing revenues dedicated for those purposes.
Proposition 8: YES
California dialysis companies charge patients with private insurance an average of $150,000 for a year of dialysis treatment, or 350 percent above the cost of providing care. The "Fair Pricing for Dialysis Act" would limit dialysis corporations from charging patients more than 15 percent above the cost of this life-saving care.
Proposition 10: YES
Allow cities, if they desire, to introduce or expand existing rent control policies. The passage of the "Affordable Housing Act" would creates local control for decision-making on rent control policies. In accordance with California law, Prop 10 provides that rent-control policies may not violate landlords' right to a fair financial return on their rental property.
Proposition 11: NO
Backed by the private ambulance industry, Prop 11 is cynical move to undermine basic workplace protections for emergency responders.
California State Senate
State Senate, District 2: Mike McGuire
State Senate, District 6: Richard Pan
State Senate, District 10: Bob Wieckowski
State Senate, District 12: Ana Caballero
California State Assembly
State Assembly, District 2: Jim Wood
State Assembly, District 4: Cecilia Aguiar-Curry
State Assembly, District 10: Mark Levine
State Assembly, District 15: Jovanka Beckles
State Assembly, District 17: David Chiu
State Assembly, District 18: Rob Bonta
State Assembly, District 19: Phil Ting
State Assembly, District 20: Bill Quirk
State Assembly, District 22: Kevin Mullin
Alameda County
County Assessor:
City of alameda
City Council, Jim Oddie
Measure K, Alameda Rent Control Charter Amendment - NO – makes it difficult and costly to change rent protection laws and to protect tenants' rights
City of Berkeley
City Council, District 1: Igor Tregub
City Council, District 4: Kate Harrison
City Council, District 7: Rigel Robinson
City Council, District 8: Mary Kay Lacey
Rent Stabilization Board: Soli Alpert, James Chang, Paola Laverde, Maria Poblet, and John Selawsky
Measure O, Affordable Housing Bond: YES - Creates permanently affordable homes for community members with low, very low, extremely low, and moderate income levels.
Measure P, Real Estate Transfer Tax: YES - Establishes a tax only on the community's most expensive homes, those that sell for over $1.5 million.
City of El Cerrito
Measure V, Establishing A Charter City and Real Property Transfer Tax: YES - funds emergency services, city parks, libraries, and family programs with real estate property transfer tax
City of HAYWARD
Mayor: Barbara Halliday
City Council: Sara Lamnin
City Council: Aisha Wahab
City of Oakland
City Council, District 2: Nikki Fortunato Bas
City Council, District 4: Sheng Thao
City Council, District 6: Desley Brooks
Measure AA – Children's Initiative: YES - funds jobs and educational programs provided by Head Start and Oakland Unified School District and expands access to quality, affordable preschool for children from low-income backgrounds and increases access to 2- and 4- year colleges
Measure W – Vacant Property Tax: YES – would generate an estimated $20 million for homelessness services and establish a "homelessness solutions" fund
Measure X – Real Estate Transfer Tax: YES - make home ownership more accessible for working families by reducing the rate to 1% for properties selling for $300,000 or less, and increase it to 1.75% for properties selling for more than $2 million, and 2.5% for properties selling for more than $5 million.
Measure Y – Eviction Ordinance - YES: closes a loophole that allows displacement of long-term tenants and protects all renters, no matter the size of the building they live in.
Measure Z: Protect Workers in Oakland - YES – establishes workplace protections with enforcement procedures and increases the minimum wage for hotel workers from $13.23 to $15 with healthcare benefits or $20 without healthcare benefits
oakland unified school district board
Board of Education, District 4: Clarissa Doutherd
peralta community college board
Trustee, Area 3: Corean Todd
Trustee, Area 5: Cindi Reiss
BART (Bay area rapid transit)
District 6: Director: Anu Natarajan
Calaveras County
Board of Supervisors, District 3: Mike Oliveira
Board of Supervisors, District 5: Ben Stopper (1021 Member)
Contra Costa County
City of Richmond
Mayor: Melvin Wills
City Council: Eduardo Martinez
City Council: Ada Recinos
Measure H, Real Estate Transfer Tax: YES - increase the rate for properties selling between $1 million to $3 million to 1.25%; the rate for properties between $3 million to $10 million to 2.5%; and the rate for properties over $10 million increases to 3.0%
BART (Bay Area Rapid Transit)
District 2: Director: Mark Foley
Marin County
Marin Municipal Water District Board of Directors, Division I: Jack Gibson
Marin Municipal Water District Board of Directors, Division IV: Cynthia Koehler
Mendocino County
Board of Supervisors, District 3: John Haschak
Board of Supervisors, District 5: Chris Skyhawk
Napa County
City of Napa
City Council: Mary Luros
City Council: Liz Alessio
napa valley college board of trustees
Trustee, Area 2: Jeff Dodd
Trustee, Area 3: Mary Ann Mancuso
Trustee, Area 4: Kyle Iverson
Sacramento County
Sacramento
Sacramento city Unified school district
Area 1: Anna Molander
Area 2: Ellen Cochrane
Area 6: Darrel Woo
los rios community college district
Deborah Ortiz
Robert Jones
Dustin Johnson
San Francisco County
Board of Supervisors, District 2: Schuyler Hudak
Board of Supervisors, District 4: Gordon Mar
Board of Supervisors, District 6: Matt Haney
Board of Supervisors, District 8: Rafael Mandelman
Board of Supervisors, District 10: Shamann Walton
Measure A: YES – the Embarcadero Seawall Earthquake Safety Bond finances the construction, reconstruction, acquisition, improvement, and seismic strengthening of the Embarcadero Seawall
Measure B: NO - limits our ability to monitor potentially discriminatory employment practices by the City
Measure C: YES - creates the "Our City, Our Home Fund" to house 4,000 homeless people, expand shelter beds by 1,000 in five years, and fund intensive mental health and substance abuse services to move the City's most severely impaired individuals off the streets by enacting a Homelessness Gross Receipts Tax on businesses making more than $50 Million a year.
Measure D: No Endorsement - places a gross receipts tax on cannabis businesses
Measure E: YES - directs a portion of the funds generated by the existing hotel tax to arts and cultural organizations and projects
san francisco unified school district (SFUSD)
SFUSD Trustee: Alison Collins
SFUSD Trustee: Monica Chinchilla
SFUSD Trustee: Faauuga Moliga
BART (Bay area rapid transit)
District 8 Director: Jonathan Lyens
Solano County
City of fairfield
City Council: Catherine Moy
City of vallejo
City Council: Katie Miessner
City Council: Hakeem Brown
Dixon Unified School District BOARD
Board Officer: John Gabby
Board Officer: Caitlin O'Halloran
Board Officer: Lloyd McCabe
Sonoma County
city of petalumA
Mayor: Teresa Barrett
City Council: D'Lynda Fischer
City Council: Dennis Pocekay
City Council: Scott Alonso
city of Santa Rosa
City Council, District 4: Victoria Fleming
Measure M: YES – "Parks for All" raises funds that would go to county parks and cities for neighborhood parks, expanding and enhancing parks for all Sonoma County residents
city of sonoma
City Council: Rachel Hundley
City Council: Chris Petlock
City Council: Jack Ding