June 7 Primary Volunteer Opportunities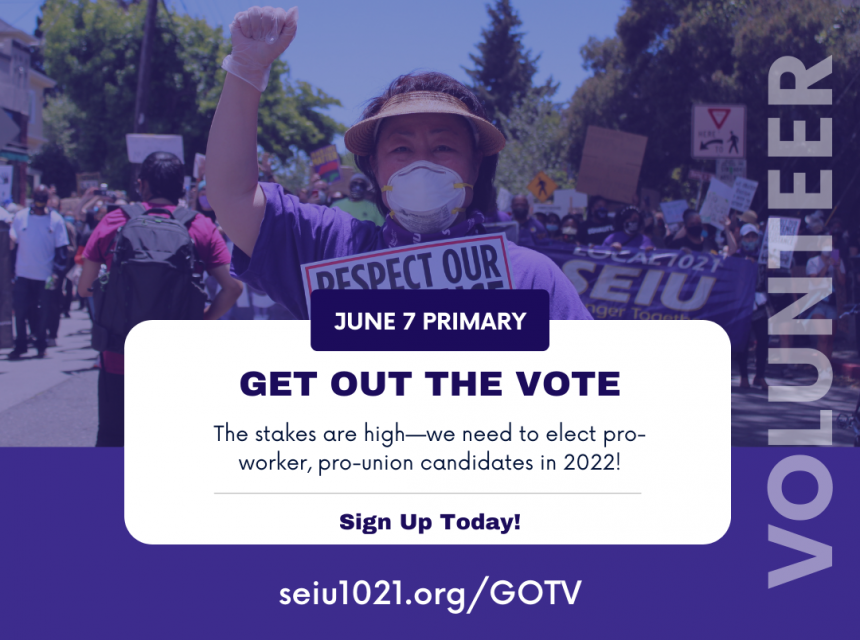 Below are a list of volunteer opportunities across Northern California in the coming weeks. Please scroll left-to-right on the table to see volunteer opportunities for the full week.
How to set up an account for virtual phone banking
We are hosting an open Zoom room 6 days a week, staffed by the Political department. You may log on Sunday – Friday at 5 pm for training and support:
https://seiu1021.zoom.us/j/86999982734 Meeting ID: 869 9998 2734
To create a log in if you don't already have one or the one you are using shows no active campaigns, please click here.
Week of May 29-June 4
Date & Location

Sunday, May 29
Monday, May 30
Tuesday, May 31
Wednesday, June 1
Thursday, June 2
Friday, June 3
Saturday, June 4
All regions
Virtual phone banking
9 am – 9 pm
Virtual phone banking
9 am – 9 pm
Virtual phone banking
9 am – 9 pm
Virtual phone banking
9 am – 9 pm
Virtual phone banking
9 am – 9 pm
Virtual phone banking
9 am – 9 pm
Virtual phone banking
9 am – 9 pm
Alameda
Jennifer Esteen phone bank
5:30 – 7:30 pm
Sign up

Jennifer Esteen phone bank
5:30 – 7:30 pm
Sign up
Rebecca Kaplan
Online GOTV rally
5:30 pm – 7 pm
RSVP

Alameda
Jennifer Esteen Canvass,
4 – 8:30 pm
RSVP for location

Jennifer Esteen Canvass,
4 – 8:30 pm
RSVP for location
Jennifer Esteen Canvass,
4 – 8:30 pm
RSVP for location
Jennifer Esteen Canvass,
4 – 8:30 pm
RSVP for location
Jennifer Esteen Canvass
10 am – 2:30 pm or 4 – 8:30 pm
RSVP for location
Contra Costa
Diana Becton Phone Bank
5:30 – 8 pm
RSVP

Diana Becton Phone Bank
5:30 – 8 pm
RSVP
Diana Becton Phone Bank
5:30 – 8 pm
RSVP
Diana Becton Phone Bank
5:30 – 8 pm
RSVP
Diana Becton canvass
9 am – 1 pm
Antioch Park, Antioch
Contra Costa
Diana Becton canvass
9 am – 1 pm
Frog Pad Park, Hercules
Sacramento
Alana Mathews Phone Bank
5:30 – 8 pm
RSVP

Dave Jones Nacho Dinner Phone Bank
5:30 – 8 pm
RSVP

Dave Jones Phone Bank
4 – 7 pm
RSVP

Dave Jones Tacos and GOTV canvass
10 am – 2 pm
RSVP

Sacramento
Jaclyn Moreno Phone Bank
5:30 – 8 pm
RSVP

Sacramento
Endorsed candidates CLC canvass

12 pm – 8 pm
2617 K St, #175 Sacramento

RSVP
Endorsed candidates CLC canvass

12 pm – 8 pm
2617 K St, #175 Sacramento
​
RSVP
Endorsed candidates CLC canvass

12 pm – 8 pm
2617 K St, #175 Sacramento
​
RSVP
Endorsed candidates CLC canvass

12 pm – 8 pm
2617 K St, #175 Sacramento
​
RSVP
CLC canvass

12 pm – 8 pm
2617 K St, #175, Sacramento

RSVP
Endorsed candidates CLC canvass

12 pm – 8 pm
2617 K St, #175, Sacramento.

RSVP
San Francisco
Working Families Party Stop the Recall Phone Bank
5-8 pm
RSVP

Stop the Recall canvass 10 am – 2 pm
No on H Campaign Office, 329 Noe St, San Francisco.
RSVP
San Joaquin
North Valley Labor endorsed candidates text bank
4 – 7 pm nvlf.org/zoom

North Valley Labor phone bank
4 – 8 pm
nvlf.org/June2PhoneBank

Endorsed candidates NVLF canvass 9 am – 1 pm,

Josh Harder campaign office
Sonoma
Blake Hooper for Sonoma canvass
10 am – 1 pm
RSVP for location
Sonoma
Brad Coscarelli Phone Bank
Teamsters Hall
1371 Neotomas Ave, Santa Rosa
10 am – 1 pm
BRING A LAPTOP OR TABLET
RSVP

South Bay
Alex Lee and Aisha Wahab canvass

10 am – 2 pm, Newark
RSVP
Alex Lee canvass
10 am – 2 pm, Fremont
RSVP
Week of June 5 – 7
Date & Location

Sunday, June 5
Monday, June 6
Tuesday, June 7
All regions
Virtual phone banking
9 am – 9 pm
Virtual phone banking
9 am – 9 pm
Virtual phone banking
9 am – 9 pm
Alameda
Jennifer Esteen Canvass
10 am – 2:30 pm or 4 – 8:30 pm
RSVP for location

Jennifer Esteen Canvass
4 – 8:30 pm
RSVP for location

Jennifer Esteen Canvass
4 – 8:30 pm
RSVP for location
Alameda
Jennifer Esteen phone bank
5:30 – 7:30 pm
RSVP
Contra Costa

Diana Becton Phone Bank
1- 4:30 pm
RSVP

Diana Becton Phone Bank
5 – 8 pm
RSVP
Diana Becton Phone Bank
12:15 – 8 pm
RSVP
Sacramento
Sac CLC: Multiple event options
8 am – 8 pm
2617 K St, #175, Sacramento
RSVP

Sac CLC: Multiple event options
8 am – 8 pm
2617 K St, #175, Sacramento
RSVP
Sac CLC: Multiple event options
8 am – 8 pm
2617 K St, #175, Sacramento
RSVP
San Francisco
Working Families Party Stop the Recall Phone Bank
5-8 pm
RSVP

Working Families Party Stop the Recall Phone Bank
5-8 pm
RSVP
San Joaquin
North Valley Labor GOTV
10 am – 2 pm, 4 pm – 8 pm nvlf.org/zoom or 417 7th St Modesto office
North Valley Labor GOTV
10 am – 2 pm, 4 pm – 8 pm nvlf.org/zoom or 417 7th St Modesto office
Sonoma
Blake Hooper for Sonoma canvass, 10 am – 1 pm, RSVP for location: https://www.mobilize.us/mobilize/event/464693/
South Bay
James Coleman Phone Bank
5:30 – 8 pm
RSVP
Aisha Wahab and Alex Lee Phone Bank
5:30 – 8 pm
RSVP