Another great Schools & Communities First kickoff in Sacramento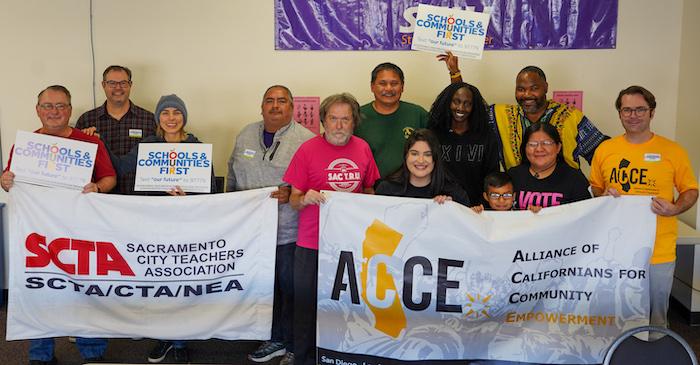 On December 15, SEIU 1021 members joined with the Alliance of Californians for Community Empowerment (ACCE), the Sacramento City Teachers Association, and others to launch our effort in Sacramento to talk to voters and get Schools & Communities First on the November 2020 ballot.
A commercial property tax loophole currently allows Chevron, JP Morgan, Disney, and similar corporations to avoid paying their fair share, which drains billions of dollars from the schools and public services we depend on. Schools & Communities First would close that loophole for corporations while protecting homeowners and renters.
"The rich are getting richer and the poor are getting poorer. Students, children, and communities are paying for this greed—for corporations grabbing the money and hoarding it. That's billions of dollars we need for quality education and to ensure all Californians share in the prosperity our work creates," said Bruce Boyer, SCUSD Campus Monitor and SEIU 1021 member.

"Everything ties to our schools, as far as our future," added SEIU 1021 member Andy LaTorre, Los Rios CCD President.
In order to get Schools & Communities First on the November 2020 ballot and force billion-dollar corporations to contribute their fair share, we need to collect as many signatures as possible. In the coming months, keep an eye out for petitions to start making their way to your worksite and be sure to spread the word!